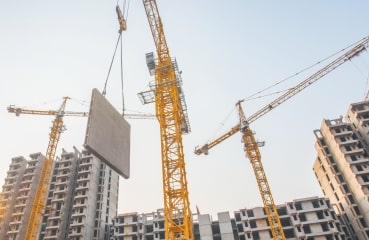 Tower crane a construction equipment 
posted by:

Emequip

No Comments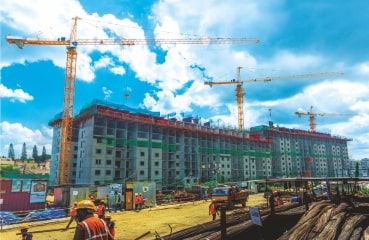 Is it a bird? A plane? It's a Tower crane – the most efficient material handling equipment when it comes to high-rise construction sites. At present, any skyscraper construction site is incomplete without a tower crane. They rise so high that missing them becomes impossible. They play a critical role in constructing high-rise buildings and structures and have made building complex structures easier. They are essential because they are designed and engineered to handle heavy concrete slabs and precast at elevated heights with safety and stability. They are robustly built to withstand all kinds of weather and operating conditions. So what exactly is a Tower Crane, and what are its components? Let's explore.
What is a Tower Crane?
A Tower crane is considered one of the highest cranes in the world. They usually rise even higher than the structure they are assisting in building. A fixed crane, mounted on-site, comes equipped with a horizontal boom that lifts the weights and moves them around with the support of a vertical mast. The horizontal boom is capable to rotate 360 degrees without any hindrance.
What Are the Tower Crane Components?
A tower crane stands on a strong and solid base that acts as its primary support. The other components are as follows.
Vertical Mast: It acts as the backbone of the crane with support from the base. Made full of trussed sections, they are connected during the installation on-site.
Slewing Unit: It is the engine which is attached to the mast and helps the crane rotate efficiently.
Jib: The operating arm of the crane which extends horizontally from the crane. While it moves up and down, a fixed jib comes with a rolling trolley situated underside of the arm and enables movement of segments horizontally.
Operating Cabin: As the name suggests, its where the tower crane is operated and controlled. For most of the tower cranes, its situated below the slewing unit.
Hoist Winch: It holds the hoist winch and hoist motor controller along with the hoist motor, gearbox, brakes, and rope.
Why Tower Crane Rental?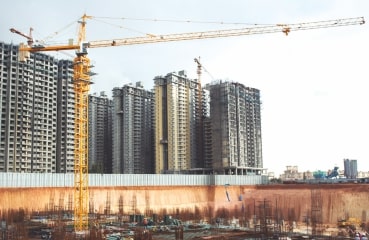 Most of the time, buying a capital equipment is a decision based on capital expenditure and the project duration. In such cases, renting a tower crane is feasible for companies and contractors rather than buying one, especially when the business is project-based.
Also, tower crane is one such equipment that does not fall in the category of "one size fits all". Instead, each project's requirement will require a specific configuration based on lifting capacities at a particular jib length.
Why ElectroMech Infrastructure Equipment?
ElectroMech Infrastructure Equipment (EMEQ) offers a large fleet of tower cranes on rental, with a range covering a jib length of 70m and a maximum lifting capacity of up to 16t – all with full compliance to safety measures. Also, our tower crane rental help you reduce Capex and optimise project costs for your construction projects.
Are you looking for tower crane rental? Write to us at rental@emech.in with your requirements.
Contact us today for the best value at the best cost!